To My Valentine', American Valentine card, c1908. Cupid shoots an arrow into a heartheld up by a putto. The words are surrounded by garlands of Forget-me-nots (Myosotis palustris) and lucky four-leafed Shamrock or Wood Sorrel (Oxalis acetosella) is a symbol of Ireland. In Roman mythology Cupid was the son of Venus, goddess of love (Eros and Aphrodite in the Greek Pantheon). The identity of St Valentine is uncertain, the most popular candidates are Valentine, bishop of Terni (3rd century) or a Roman Christian convert martyred c270). St Valentine's Day, celebrated on 14 February, probably replaces the Roman pagan festival of Lupercalia. (Photo by: Universal History Archive/Universal Images Group via Getty Images)
Valentine's Day Algumas pessoas nascem, crescem, não reproduzem e morrem sem ter experimentado esse gostinho.
10 de junho de 2022 12:53 por Mácleim Carneiro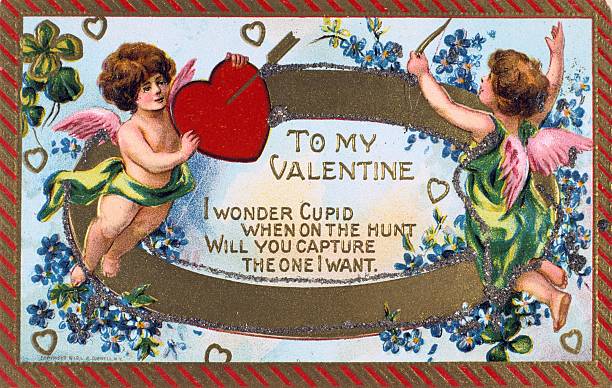 Certa vez, recebi um e-mail de uma amiga comentando que não sabia o que fazer no dia dos namorados. Ela, obviamente, sem namorado, dizia estar em dúvida se iria recolher-se às cobertas ou se apelaria para cicuta. Aliás, afirmava ser esta uma conclusão dela e de mais duas amigas. Pois bem, pela primeira vez percebi que de todas essas datas, criadas para o comércio faturar, o Dia dos Namorados talvez seja a data mais cruel, para quem não tem o objeto dos apelos da mídia. Pai e mãe, por exemplo, são inerentes a todo ser humano, mesmo que o ser tenha sido gerado em uma proveta. Portanto, tê-los, antes de tudo, é uma questão biológico-natural. Ao passo que a conquista de uma namorada ou namorado depende de uma infinidade de questões e contextos, que vão desde uma unha encravada até ao merecimento cristão-religioso. Assim, algumas pessoas nascem, crescem, não reproduzem e morrem sem ter experimentado esse gostinho.
Pois é aí que reside a crueldade dessa data. Aliás, a crueldade em questão, mesmo que por outro enfoque, é longeva e tem origem, provavelmente, na antiga festa romana de Lupercalia. Nos últimos dias da Roma antiga, os lobos ferozes vagavam próximo às casas. Os romanos convidaram um de seus deuses, Lupercus, para manter os lobos afastados. Por isso, um festival era oferecido para a honra de Lupercus. No inicio do festival de Lupercalia os nomes das meninas romanas eram escritos em pedaços de papel e colocados em frascos. Cada homem escolhia um papel. A menina cujo nome era escolhido devia ser sua namorada durante aquele ano.
Percebe agora de onde vem a crueldade?
Padre Visionário
Digamos que, em tempos mais recentes, quando o cristianismo era uma religião de fraudas, o imperador Claudius II ordenou que os soldados romanos não se casassem. Claudius acreditava que, como homens casados, seus soldados iriam permanecer em casa, com suas famílias, ao invés de lutar nas guerras. Até que fazia sentido. Quem, a não ser os americanos, russos e israelenses, trocaria o conforto do lar e uma mulher carinhosa por uma guerra? Se bem que conheço alguns amigos que não titubeariam se tivessem que escolher entre uma boa guerra – em todos os sentidos – a ter que ficar em casa, enfim…
Quando tudo parecia perdido, alguém foi contra a ordem do imperador. Mas, quem teria sido? Sim, só poderia ter sido um padre visionário. O esperto padre Valentine casava secretamente os jovens, pois, malandro que era, entre outras coisas, já antevia os lucros que a igreja obteria ao longo dos séculos, com a instituição do casamento e toda sua cadeia lucrativa. Ah, não podemos esquecer que o padre Valentine foi preso, condenado à morte e executado justo no dia do feriado de Lupercalia.
Percebe agora por que que o casamento tem um quê de sacrifício?
Assim, em homenagem ao nosso bom padre Valentine, o feriado transformou-se no Valentine's Day, que, aqui no Brasil, é comemorado como o Dia dos Namorados. Para os que pretendem se casar, não pense que o desfecho dessa história foi tão trágico como parece. Após sua morte, o padre Valentine foi promovido a santo. Portanto, a moral da história é a seguinte: case-se e torne-se um santo(a), nem que seja em homenagem ao padre!
No +, MÚSICABOAEMSUAVIDA!!!